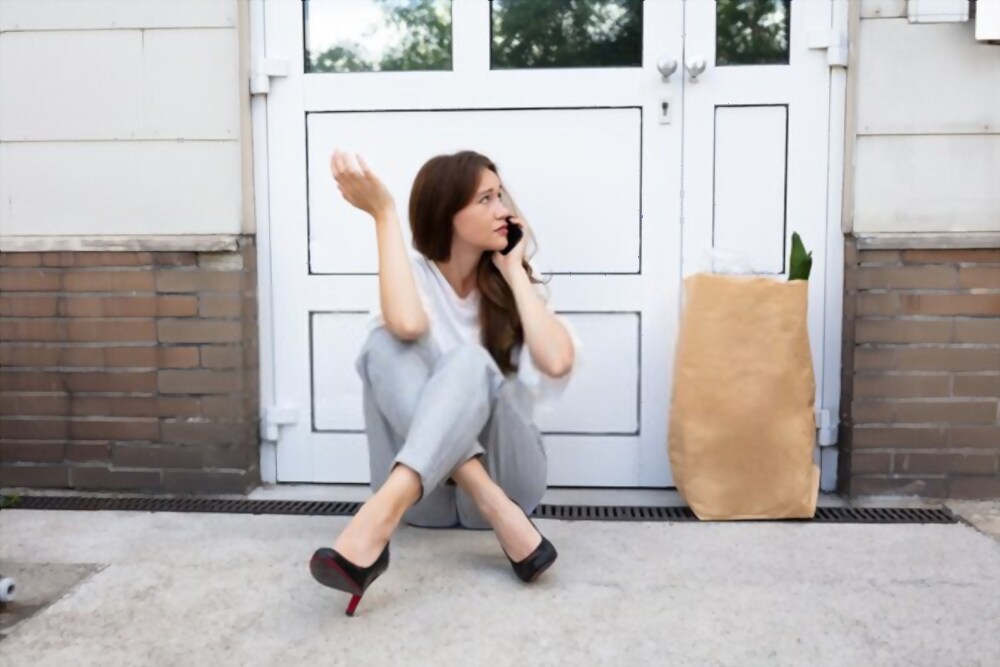 Have you ever locked yourself out of the house? Many of us have been locked out of the house at one time or another and it's not something you want to do a second time. So, the best thing to do is have a plan and know what to do if it happens.
Usually people would have a spare key hidden somewhere around the house, but this isn't a safe option for obvious reasons. You might also have a close friend, partner, or spouse who has a spare key and can help, or (if you live in a rental house) you could ask your landlord for a spare key. The only issue with this is that if you're locked out of your house late at night, you might not be able to get in contact with anyone or you may end up waiting for hours to get help, which puts yourself in a very vulnerable and inconvenient situation.
So, to help you know what to do in a situation where you're locked out of your house, here are some methods below you can try out. But if nothing seems to work, calling a reputable and trusted 24/7 locksmith company is always going to be your best solution. Since not all locksmiths are made equal, we'll also help you in terms of what you should look for in a good locksmith (who will get the job done fast, efficiently, and at reasonably charged prices) and ultimately avoid the bad ones.
---
Nonstop Locksmiths is a professional, licensed Locksmith service offering quick solutions to emergency lockouts and other services in the Melbourne area. 
Our qualified, ethical and highly capable staff members provide the best security solutions for our customers using our skills and knowledge gained through training and years of experience.
---
I'm Locked Out of the House, What Do I Do?
Three possible DIY solutions to get you back inside if you're locked out of your house, lost keys, had your keys stolen, or left them inside:
1. Check for unlocked windows – We don't recommend leaving windows unlocked when you leave the house, but just in case you forgot, you might be able to climb through a ground floor window. Don't even think about trying this if the window is above ground floor as you or someone else could be injured. An athletic neighbour is a good idea if you have one and it's a reasonable time to ask for help.
2. Check for unlocked doors – If you're locked out of the house, you may be lucky and find a door other than the one that just closed on you to be unlocked.
3. Call a friend or family member who has a spare key – If you a pro-active and have given a key to a family member or friend, now would be a good time to call them to get you back into your property.
You can avoid all the hassle by simply calling a locksmith who has the tools and knowledge to get you inside safely and quickly without damaging your door and door locks.
---
Nonstop Locksmiths tradesmen are ready to solve your emergency or lockout 24/7 using our fully-equipped mobile workshops to reach you wherever you are in Melbourne. 
Nonstop Locksmiths emergency service has a solution for every homeowner, renter, business or corporation to solve all lockouts, break-in damage and locking needs quickly and efficiently.
---
Sorting the Good Locksmiths From the Bad
When you find yourself in an inconvenient situation such as being locked out of the house, you'll want fast help. So, here are three quick sure-fire ways to sort out a good locksmith from a bad one, which will get you the help you need ASAP.
1. Ask what the locksmith charges: A good locksmith will charge what is a reasonable fee, whereas others may exorbitantly overcharge by taking advantage of your situation.
If you're locked out of the house, locksmith costs should be made clear to you upfront. Check that the quotation and price includes everything. Customers may often feel the need to pay extra to avoid conflict and to get into the house as soon as possible, but at least with the team at Nonstop Locksmiths, we'll never charge you unnecessarily expensive fees and ensure that you clearly know what to do expect when our trusted locksmith arrives to help.
2. Is the locksmith nearby?: An unreliable locksmith will give an estimation of half an hour to get to you when they're actually an hour and a half from your location or longer. So always ask the technician where they are, and if they're not there in the time that they quote, cancel and call someone else. Local locksmiths value their reputation, so they are a better option. You'll find that with Nonstop Locksmiths, If we give a set time we are always there on time or before the time set, so no matter where you're located, we'll have a team of expert locksmiths ready to assist you.
3. Reputation: If you can, check out locksmith reviews. Rather than just going off ratings, you should also factor in the number of reviews the company has – as the more high rated reviews there are, the more reliable and reputable the locksmith company may be. Long reviews are also much better as it's less likely to be fake and probably contains more insight as to what to expect from the company. Also carefully read reviews and check to ensure the reviews are  consistent. You can easily spot fake reviews if you take the time to read a few reviews.
4. Bait and switch scams: Be mindful of backpacker locksmiths posing as genuine locksmiths. The tell-tale sign is they advertise cheap call out fees to lure or bait the unsuspecting person into engaging their services and whilst at your property will claim the lock is a special high quality and high security lock and will need to drill it out to gain entry and replace the lock. They know once they are at your property and that you are in a vulnerable situation and position, they can take advantage of you and charge you an exorbitant amount of money for the job as at this point you just want to get into your property, where as a locksmith will be able to open the lock without destroying the lock and for far cheaper and at a fair and set price. In some cases we have seen clients charged well over $1,000.00 for a basic opening.
---
If you find yourself locked out of the house or in any other emergency lockout situation, you can trust Nonstop Locksmiths in Melbourne. We have mobile workshops located nearby or near you and can be there within 30 minutes 24/7. We pride ourselves on our honesty and will never take advantage and overcharge if you aren't familiar with locksmith prices. Our services are top quality and reliable, and our prices are competitive, that's why Nonstop Locksmiths are the best option. Call us on 0418 444 166 and we'll be there in a flash.